The magazine From Line to Culture has been published in Israel, in its current format, for the last 10 years. A non-profit online magazine, it considers culture as encompassing the entirety of everyday life. Its expressions are like a recommendation from a friend.
The plate on which we eat, the bedding on which we sleep, the movie we watch, the music or book we enjoy and the carpet we spread on the floors of our home – all are varied aspects of our culture, radiating – sometimes without our awareness – the "what" and "how" of our lives.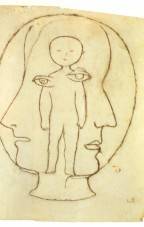 Latest From The Blog
The work before you will surely surprise you, too. Its...