"People are always shouting they want to create a better future. It's not true. The future is an apathetic void of no interest to anyone. The past is full of life, eager to irritate us, provoke and insult us, tempt us to destroy or repaint it. The only reason people want to be masters of the future is to change the past." –Milan Kundera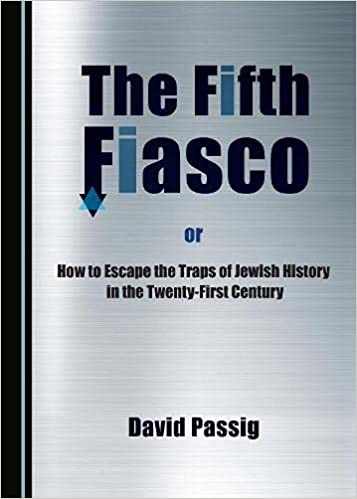 Prof. David Passig's new book deserves a great deal of attention. The in-depth analysis and very wide-ranging view of history that David Passig lays out is truly worthy of deep appreciation. As a Jew living in the land of Israel, I have big question marks in our hearts about our future. David Passig confronts many questions, some of them very difficult. He leads readers, as if holding them by the hand, through three tiers. The safe haven he reaches in the book's conclusion is very interesting indeed.
Already in the subtitle of the book, David Passig puts his cards on the table and states the essence that led to the book's writing: How to Escape the Traps of Jewish History in the Twenty-First Century.
As he moves between the various tiers, David Passig tries to extract a pattern of action that, if we acknowledge and recognize it, will facilitate escaping the "fifth fiasco" and eventually illuminate the path of the Jewish people and the State of Israel in a positive way.
Passig points to a pattern: "Events that, time and time again in Jewish history, led to national disasters – indicate that an impressive period of glory is followed by a period of severe controversy and bloody struggles, and finally a national catastrophe. "
In Passig's thinking, how we tell the story of the past is a tool, a means. He stresses, "Everything depends on how we describe our past to ourselves if we wish to create a new and sustainable story for our future." This is the first tier of the book. Support derived from various scientific fields, including neuroscience, psychology and futurology, clarify and add substance to laying this foundation: "I wish to investigate how and why generations of Jews have been so spectacularly unsuccessful at nation-building for over 3,000 years that many still maintain that the Jewish people are a transnational nation who have no need for territorial independence and sovereignty, and who would be better off scattered among the nations" as Dubnow claimed. This tier uncovers innovative and fascinating research in many fields of knowledge.
In the second tier or part, "I turn to investigating several chapters in Jewish history, using the methodology of articulating counterfactual historical events and proposing alternative interpretations of the failures that induced the disasters that have afflicted the Jewish people for 3,500 years. I identify patterns in the Jewish mindset over the ages that may have led generations of Jewish leaders to fail time and again at their critical mission: to lead the flock safely through treacherous terrain. Yet on four occasions, they nearly led the Jewish people to extinction. On this tier, Passig attempts to analyze the patterns in leaders' behavior that led to these failures. He describes four epochs: the ages of the tribes, of the kings, of the priests and of the rabbis. The selection and analysis of the events, stories, and characters illuminated in the book appear in succession as in a movie documenting Jewish history. To me, this section of the book could be described as a thriller.
Note that, according to David Passig, the attempt to identify a pattern in the story of events at the time they occur is cardinal to "how" reality is formed. Breaking-down reality (how the story of events should be told) during and after their occurrence is a technique; it can be a catalyst or an obstacle. Think about each story in our lives. How we tell it – to ourselves or to others – is its reality in our eyes, but the same reality may/might be told differently by other participants, such that reality takes on other forms. This occurs solely because of how it is told/described. In my opinion, this idea constitutes the Archimedean point of all human behavior in life, and further illuminates the complex subject that the book considers. On this point, Passig uses scholarship to explain that the "how" told about reality, even past reality, equips us with tools for building the story of future reality.
What is on the third tier? Passig's positive view and his solutions regarding the future in the fifth era, the State of Israel. I corresponded with Prof. Passig on this topic, and the following quotation is taken from his response:
"I truly believe that our children will succeed in the historical task before them, for two reasons:
First of all, I am a man of faith who has internalized the ancient prophecy that the third Temple will not be destroyed.
And primarily because I firmly believe in our children and their generation, because they are a completely different generation than our desert generation. We are burdened with historical distress that does not allow us to truly let go and take off. Our children will be part of a generation that, for the first time in thousands of years, is truly free; their critical mass in Israel will give them the boost needed their success."
All that remains for you, dear readers, to do is read Prof. Passig's book. For that you will be grateful. This article has only opened a few windows to stimulate your curiosity; it does recount the entire book.
www.passig.com
** On Prof. Passig's website, I found a gift for all of us:
"If you do not go far enough back in memory or far enough ahead in hope, your future will be impoverished." –Ed Lindeman