Chef Mana Straus
We tasted this superb Tiramisu at the "Radio Rosko Restaurant", in Tel Aviv, which we highly recommended in the past. Also acknowledgement is due for the excellent food served there as well as the 'easy' design of the place, which creates a pleasent and relaxing ambience.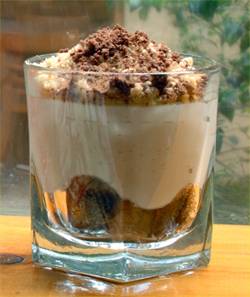 Recipe for 10-12 servings
Ingredients Required:
2 egg yolks
2 egg whites
100 grams (1/2 cup) sugar
500 grams mascarpone cheese
25 grams (2 tablespoons) Marsala Wine
375 grams cream
2 cups strong espresso – not hot
1 pkg. Lady Fingers
Beat the egg yolks with half the amount (50 gr) sugar. With a fork, crumble the cheese and beat into the egg yolk mixture. Add the Marsala.
Whip the cream separately until it is frothy and add gradually to the mixture.
Whip yhe egg whites separately, together with the rest of the sugar (50 gr) until thick and soft and fold into the mixture. Half the Lady Fingers. Dip them in the espresso. Place 2 halves in the bottom of each individual serving dish.
Spoon over a portion of the cream mixture. Repeat this process until you have 2 layers of cream mixture and 2 layers of Lady Fingers. Remove the filled dishes to the refrigerator for at least 4 hours.
It is also possible to prepare this mixture and layers of Lady Fingers in a deep dish and cut into serving portions after refrigeration. It is customary to sprinkle powdered cocoa on top before serving.